Ways to Share Your Affiliate Code -

Sharing directly from a Lernsys course page via Email a Friend

The following method to share your affiliate code, while being one of the easiest, does not have "massive" reach. However, it is a good way to recommend a course to someone who you know may be looking for the particular type of material you are sharing. Follow these simple steps:
1. From the course page, click on the "EMAIL A FRIEND" button, as shown below: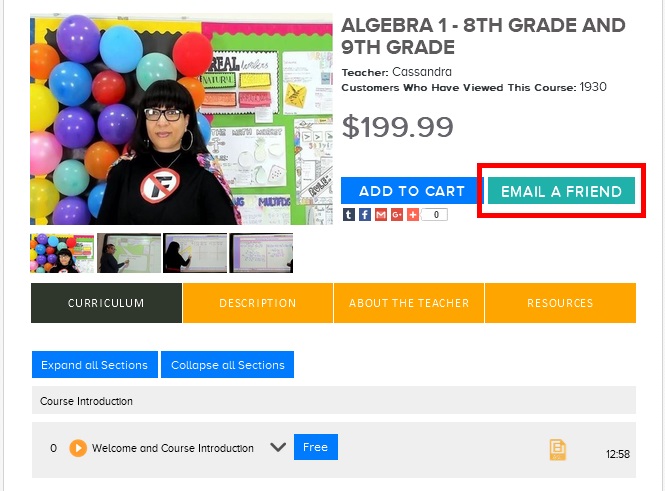 The email a friend form will appear.
2. Fill in your friend's email address.
3. Fill in your own email address.
4. Fill in a brief message and click the Send Mail button, as shown below.
With this method, you do not need to include your affilicate code manually. The email sent will already include your affiliate code as part of the URL your friend can click on to access the course.
Mass sharing your coupon code and affiliate URL

1. SOCIAL MEDIA: You can use any social media platforms, such as Facebook or Twitter, to advertise your affiliate link and coupon code. Because social media has a huge reach and can be re-shared with other members of the network, it is a great place to start.

VIDEOS
Posting short videos (1-2minutes) is a great way to intrigue visitors and leave a lasting impression.
FAN PAGES
Create these pages to get visitors interested in your experience and existing followers to stay engaged.
VISUALS
A picture is worth a thousand words, so posting custom links that include visuals is more effective than using text alone.
NETWORKING
Since Facebook is one of the largest social media platforms, you can easily search for groups and individuals in need of academic courses, worksheets, and lessons and reach out to them with your custom links. Search for homeschooling groups in your state, teacher groups and education ideas, and you can easily reach tens of thousands of people who share your same passion for education.

CONSISTENCY
Whether it's once a week or once a day, posting content consistently is the best way to generate hype and increase awareness.
HASHTAGS ( #)
Include hashtags in your posts to relate to your niche, engage with your followers, and network with influencers(e.g.#Lernsys).
HIGHLIGHTS
Instagram is the platform to highligh products. This means posting only your favorite pieces of content.
PROFILE BIO
The bio at the top of your Instagram profile is a great place to post custom links to the video-courss of your choice.
VOLUME
Unlike other social media platforms, on Twitter you can post multiple times per day without annoying your followers (but do not stack your posts).
HASHTAGS ( #)
Include hashtags in your tweets to relate to your niche, engage with your competitors, and network with influencers (e.g.#Lernsys).
EXPERIMENTATION
Post all of your ideas and content and see which ones get the most interaction (e.g.likes, retweets, comments). Use this information to identify which types of content your followers enjoy the most.

REACH
Unlike other social media platforms, on LinkedIn you will be connecting primarily with industry professionals including educators and teachers. Because you can also generate 10% from other teachers' course sales who you referred to Lernsys, this is an ideal place to connect with other teachers.
GROUPS

LinkedIn has many groups related to the education field with tens of thousands of teachers some of who may already be part of your LinkedIn network. Joining and participating in these groups is a good way to refer new teachers and promote your affiliate codes.
SUB-GROUPS

While you may be tempted to only join the larger education groups, smaller groups such as "math teachers", "science teachers", "homeschooling parents", etc., have a very active user base who are always looking for new members, ideas, solutions and recommendations.
PRODUCT REVIEW
Over 70% of customers who shop online usually read other people's reviews before deciding to make a purchase. One of the problems that now abounds the web is "fake" or "paid" reviews. Because it is hard to tell which one is which, LinkedIn tends to be a trusted source for reviews made by industry professionals. If you have a favorite Lernsys course, or one which you believe is strikingly interesting, others will be happy to know and benefit from your opinion and review.

2. BLOGGING
Blogging is an excellent way to share your ideas and experience with others. In fact, many blogs have hundreds of thousands of visitors per month. Many teachers actively contribute to blogs and forums which discuss homeschooling, teaching best-practices, classroom technology, or education as a whole. If you don't have a website or blog page and want to create one, check out Blogger, Wordpress, Weebly, or Wix.
EYE-CATCHING
The top-center area of a web page is where visitors naturally look first. Use this as an opportunity to post an engaging piece of content to grab attention and build curiosity/excitement.
CURRENT TOPICS
A blog is an excellent place where you can share your opinions and ideas about hot topics trending. Many people may soon start visiting your blog on a regular basis to get your perspective and insight on different hot education topics. In fact, a lot of bloggers who attract many visitors to their web page, often end up collaborating pieces for major newspapers and magazines.


3. Emails: If you have email addresses for people who may be interested in academic materials, courses, or homeschooling, you can send them an email describing Lernsys's products and services. For example, you can bring attention to a particular course or even free resources which Lernsys offers.
IMPACTFUL SUBJECT LINES
Quality subject lines are usually 5-10 words long and capture the reader's attention without giving away too many details. Do not use the word "Free" in your subject line or your email could be marked as spam.
SERVICE PROVIDERS
If you are planning to send out mass emails, use providers such as MailChimp, iContact, and CampaignMonitor to save you time. Some providers like MailChimp have free accounts for up to 2,000 contacts and 12,000 emails per month.


3. Students, friends, and colleagues: Students, friends and colleagues may often ask you for advice on where they can find good quality academic material. You probably already refer them to different sites but you may not be getting rewarded in the process. Many sites claim to be "free" but charge for the actual good features or upgrades. Other sites claim to be not-for-profit but their directors pay themselves collosal 6 and 7 figure salaries per year while the teachers who refer them students can sometimes barely get by. Lernsys is truly a not-for-profit organization built by teachers and for teachers. Our directors who are current or former teachers do not receive any compensation. The majority of the revenue derived from video-course sales go directly to participating teachers, affiliates, and partners.
GIVE FIRST, ASK LATER
Give your readers something (e.g. free tips) before asking them to click your custom links. This helps to build trust, which is crucial to establishing a positive relationship.
IMPORTING YOUR EMAIL CONTACTS INTO LERNSYS

Your affiliate account has the ability to track invitation conversions when you use the email contacts import functionality and send invitations through the Lernsys system. You can access the invitations functionality by following these instructions:
1. Log in to your account by clicking the "Sign In" link at the top of the Lernsys home page.
2. Navigate to your affiliate account by clicking on the link that says "My Account".


3. Click the "Invite Other People" link located in the left menu. Enter email addresses manually using
the input box shown below and click "Send" to send the invitation. Click on the "Gmail Contacts" and
"Yahoo Contacts" buttons to automatically import your Gmail and Yahoo contacts and follow the steps to
complete the import.

4. Once the system has imported your contacts have been imported, click inside the boxes to select the
contacts you want to invite. Click "Send Invitation" to complete the invitation process.

Note: Your email invitation will include a direct link to the Lernsys site. The link will also contain your unique
affiliate code placed there automatically by the invitation system.
Managing Your Invitations
1. To view the status of invitations already sent, click on the "History" button.

2. The system will display a list of the invitations already sent and their status (Registered or Pending). To
resend an invitation, click on the "Resend" option located in the "Action" column.

Checking Your Earnings
You can check your ongoing earnings and commissions by access the affiliate administration section.
1. Log in to your account by clicking the "Sign In" link at the top of the Lernsys home page.
2. Click on the "Admin" blue button on the top left section of the page.

3. From the "Sales" dropdown menu, click on "Lernsys Commissions".
4. The system will display your ongoing earnings.
5. Click on the "Logout" link located on the top corner of the page to be logged off.